Artists at Hyytiälä Forestry Field Station
The research done at Hyytiälä Forestry Field station has interested artists even before the actual artist-in-residency program started.
Manifold research, instrumentation, surrounding territory and the scientist visiting the station guarantee an inspiring working atmosphere in the middle of the woods.
In 2007, Finnish visual artist Terike Haapoja started a project, where she studies carbon cycling and associated natural research and scientific thinking. The dialogue with researchers and a visit to Hyytiälä resulted as two artworks, Inhale-Exhale and Dialogue. Both were exhibited at the 2012 Venice Biennale. Terike Haapoja has also been part of the workgroup, that developed carbontree.fi website.
Finnish visual artist Mari Keski-Korsu was chosen as an artist to a collaboration project between Bioart Society and HENVI in 2012. The art works produced within the project were exhibited as Prima Materia exhibition in Helsinki. Keski-Korsu's Albedo Dreams project has since continued across the Europe, and several workshops, interventions and exhibitions have been organized around it.
Berlin based media artist Agnes Meyer-Brandis was invited to start her residence under the Climate Whirl project in 2013. More about here work here: http://climatewhirl.fi/en/artist-in-residence-program.
In 2018-19 the Finnish artist duo IC-98 composed by Patrik Söderlund and Visa Suonpää, will work on their project in collaboration with a group of writers; Henriikka Tavi, Mikael Brygger and Olli-Pekka Tennilä. The new art work will be situated in a forest near to the station, and in University of Helsinki Viikki campus in Helsinki. More information about the project will follow soon!
Terike Haapoja
Terike Haapoja is a Finnish visual artist. She represented Finland in the 2012 Venice Biennale, where her exhibition Closed Circuit – Open Duration was shown at the Nordic Pavilion.
Art Works
Dialogue (2008)
interactive installation
live trees, electronics, sound, light, CO2 sensors, breathing
programming Aleksi Pihkanen, Gregoire Rousseau
The installation DIALOGUE enables an audible dialogue between breathing and the plants' photosynthesis process. When the visitor whistles to the trees they respond by whistling back. The work aims at raising our consciousness on the interactive relationship with our surroundings and the non-human environment.
The technology used in the work is an adaptation of the technology used in forest ecology.
Inhale-Exhale (2008)
Durational sculpures
plywood, glass, soil, CO2 sensors, sound
programming Aleksi Pihkanen, Gregoire Rousseau
In the installation INHALE – EXHALE 3 coffin-size glass cases are filled with soil and dead leaves. CO2, produced by decomposing, is measured with CO2 sensors and translated by a computer into sound. Ventilation fans on both sides of the coffin are automatic, opening and closing in 20s intervals. The ventilation fans function as gills, regulating the CO2 level inside the coffin. As a result the coffin seems to slowly inhale and exhale as the CO2 level goes up and down.
The technology of the work is an adaptation of a method used in biology for measuring soil breathing.
Mari Keski-Korsu
Albedo Dreams: Do-It-Yourself Climate Manipulation
The ability of a surface to reflect radiation is called albedo. Albedo Dreams plays around with the thought of geoengineering, a concept that is often also called as climate manipulation. Geoengineering means large-scale technical intervention to the climate.
Albedo is expressed as a fraction (0-1; 0-100%). Albedo near zero means that the surface does not reflect almost any light/radiation (e.g. a lump of coal), but absorbs it instead. Albedo near 1 means that the surface reflects almost all the light back to the atmosphere (fresh snow). It has been estimated, that using materials with high albedo value at roofs and roads at urban areas, could offset all the carbon dioxide (CO2) emissions from all the cars in the world for 50 years (Concordia University, 2012).
Mari Keski-Korsu has collaborated with albedo researchers prof. Frank Berninger and PhD. Nea Kuusinen.
Website albedodreams.info documents Albedo Dreams, and aims to open it up for all do-it-yourself climate manipulators. It also aims to expand the view of what it is to be a human under the age of environmental crisis, and what kind of answers we seek in order to overcome the crisis.
Albedo Dreams and the Climate Whirl wokshop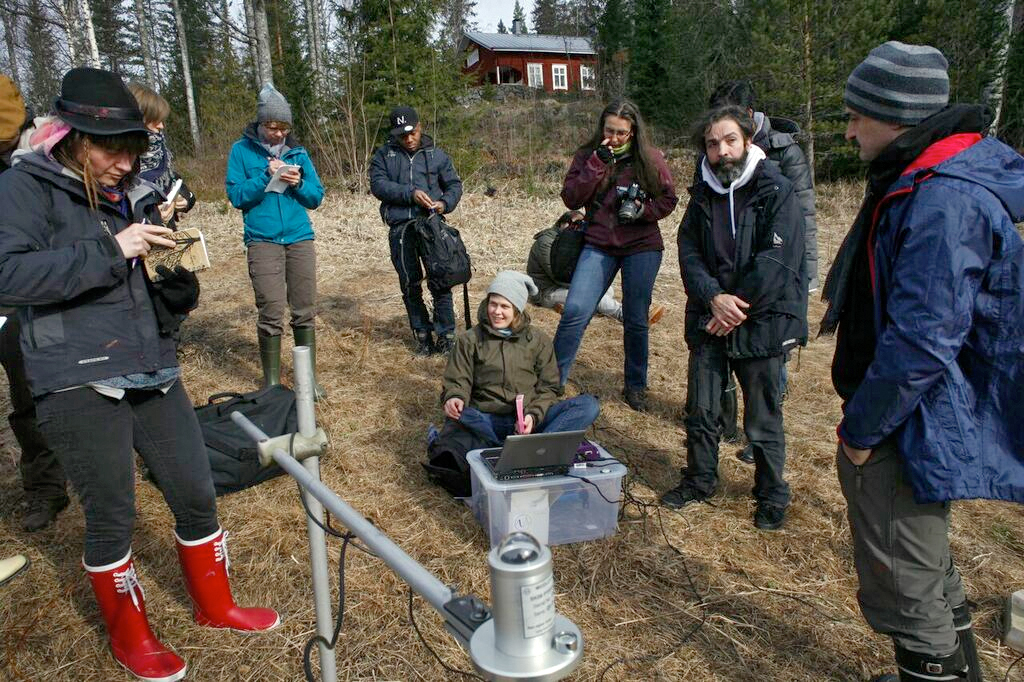 Albedo Dreams began as collaboration between Mari Keski-Korsu and forest researchers at University of Helsinki. It was interesting to organize a workshop in Hyytiälä Forestry Field Station, as part of the Climate Whirl project.