Artist-in-residence program
The research conducted in Hyytiälä, the research instrumentation and the research itself offer a complicated, challenging, but inspiring basis also for artistic research. In order to utilize these possibilities, the first artist-in-residence was actualized at the Forestry field station in 2013, under the Climate Whirl concept.
The basic idea of Climate Whirl artist-in-residence program is that an artist and a researcher can work as equals at the station. The work is carried out at SMEAR II research station (SMEAR= Station for Measuring Ecosystem-Athmospheric Relations) in Hyytiälä, Juupajoki, Southern Finland. The aim is, that the same instrumentation and knowledge is available for the researchers and the artists.
Art curator Ulla Taipale was invited to coordinate Climate Whirl artist-in-residency and other activities by the initiator of the project, Dr. Eija Juurola. In her work, Taipale unites natural and artistic research. For several years, she has collaborated with Finnish research stations in many art and cultural projects. 
Project proposals were asked from Finnish and international artists working in the intersection between arts and sciences. Internationally awarded German media-artist Agnes-Meyer Brandis was selected as the first residency artist in 2013.
Climate Whirl artist-in-residence has got positive feedback from the staff working at Hyytiälä. The residency has opened up new questions, and catalyzed wider perspectives to the top-level research conducted at the station.
Currently, a Finnish artists Patrik Söderlund and Visa Suonpää, known as IC-98, are developing a new site-specific artwork that will be located at the old forest in Hyytiälä forestry station, as well as at Viikki Campus area in Helsinki. The new work will be published in autumn 2019.
The first artist-in-residence, Agnes Meyer-Brandis (DE)
The works of Agnes Meyer-Brandis are characterized by multidisciplinary explorations, that are often inspired by natural phenomena and natural research. She has studied the formation water droplets in zero-gravity flights (at German Space Agency), migrated with mysterious Moon Geese and designed an equipment that creates clouds. In her work, artistic, scientific, and technological research are often combined with fantastic elements.
The residency in Hyytiälä started in August 2013. It was carried out in two parts. In the later part, the Tealemetree*-workshop was organized. International group of thirteen artists and researchers took part to in the workshop.
Meyer-Brandis began her stay at the station with getting acquainted with the staff and the other researchers working at Hyytiälä. In order to meet people in the research forest, she built a table, that formed a meeting point and a place for tea breaks between the scientists, Agnes and a tree; Have a Tea with Me and a Tree.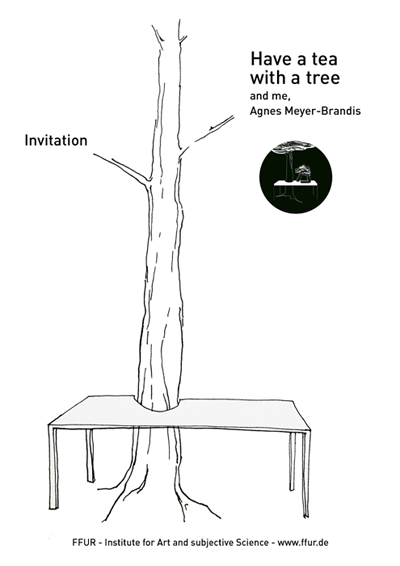 Tealemetree Station was inaugurated as a permanent public art work in 2015. The table is documented by a webcam. The archive of the images can be browsed here.
*Tealemetree
---
Tea = a traditional beverage made from steeping the processed leaves, buds in water.
Telemetry = The word is derived from Greek roots: tele = remote, and metron = measure.
Tree = There is no universally recognised precise definition of what a tree is, neither botanically nor in common language.)
The official opening of the Tealemetree Station was celebrated during the 20th anniversary of SMEAR II station, in August 2015.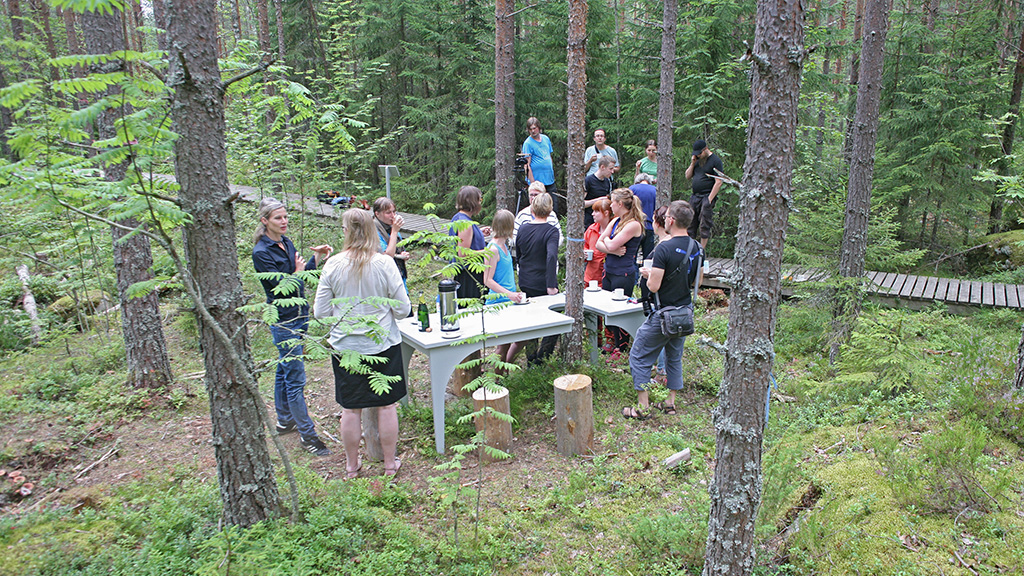 The residency of Agnes Meyer-Brandis also resulted an installation work Teacup Tools. The work got a Mention of Honor at Hybrid Art category at Prixars competition at Ars Elektronica festival in spring 2015. So far, the work has been exhibited at Tieranatomisches Theater in Berlin, Ars Electronic festival in Linz, Austria, El Centro de Arte Laboral in Gijón, Spain, and in many measurement stations in Basel, Switzerland.
Forests and their research in Finland has inspired Agnes to continue her research on trees, forests and the atmosphere also elsewhere in the world. The Global Teacup Network (GTN) calls attention to the investigation of the invisible and borderless air and its aerosols* - tiny particles of organic and inorganic matter, with a major impact on cloud formation, crucial to weather and climate.
Empty Data video installation
Video work currently entitled as Empty Data is under work. It was filmed during the intensive two-part residency at SMEAR II station in Hyytiälä. Empty Data is an visual research project, that will be published as a multi-channel video work. The work comprises from collection of thoughts, stories, images, clouds and observations. It transforms from fact to fiction, from art to science and to measurement data production at Hyytiälä station. It tells stories and presents models, bringing up "invisible" lyrical forms of measurements and analysis.
The residency of Agnes Meyer-Brandis, and the permanent Tealemetree Station has been supported by Kone Foundation.

The Teacup Tools are an array of cybernetic teacups, adapting themselves to the realm of climate related sciences.They appear as a multifunctional tool for the investigation of tiny micro clouds above tea, for communication and for tea drinking. On a mobile phone one can log into the local Teacup Tool Wifi and have a look at realtime curves, written by dancing teacups, listen to Data Tango and get more info on the Global Teacup Network. The sculptures have a nomadic quality. Like parasites they can be found next to aerosol* measurement stations, in parks, on streets, on roofs or in the neighbourhood of research laboratories.
*Aerosol ="solution in air" (ancient Greek "a-er" = "air"; latin "solutus" = "dissolved").
Rain is falling into the cup.
Litter from the trees is falling into the cup.
A weather station attached to the teacup is measuring.
Data analysis takes place.
Teacups are wandering up and down.
Teacup altitude = instant data visualisation.
Many data are produced.
Tea cloud data calculation is heating the computer, causing the tea water to boil.
Cloud formation, depending on aerosol appearance, tree emissions, rainfall, water temperature etc..
The tiny cloud above the tea is getting investigated.
Data are gathered - boiling again the tea water.
Rain is falling - litter is falling.
Tea water is heated.
Teacups are dancing into the heights.
Wind is coming and cooling - teacups are wandering down.
Calibration time - teacups are wandering into the heights.
An endless circle of raindrops and clouds, air particles, measurements and tea drinking.